Chiropractic Testimonials
SUCCESS STORIES: We have accumulated many amazing testimonials over the years but the truth is our clients are amazing and deserve the credit. They worked hard, sacrificed, followed their treatment plan, and reaped the benefits of incredible health transformation.
---
17 Years of Neck, Back, and Hip Pain Healing: Justin's Story
Severe Back & Shoulder Pain Healing: Brian's Story
15 Years of Headaches Fixed w/ Chiropractic Care: George's Story
---
Dr. Kevin is a lifesaver!
"I'm a "Blue Collar Worker." All my life I've used my body as a tool. Working hard, staying active and ethics instilled by my parents has led me to an appreciation of what it takes not only to survive, but to succeed in life. I picked berries and beans with the migrants (by the way I'm sixty years old), learned to drive by working in the hay fields, and sports of some kind throughout school with wrestling and football being my mainstay. I even wrestled in the Marine Corps but lost to the fifth place national freestyle champion three-to-two.
For most of my life I thought I was indestructible! I took the mantra "No pain, no gain" to heart. Between that and my own stubbornness, I pushed myself to the point of unhealthiness! It wasn't until my bout with sciatica that I realized I couldn't fix myself by working through the pain, stretching or rolling around on the floor. For someone like me, asking for help was one of the hardest things I've ever had to do.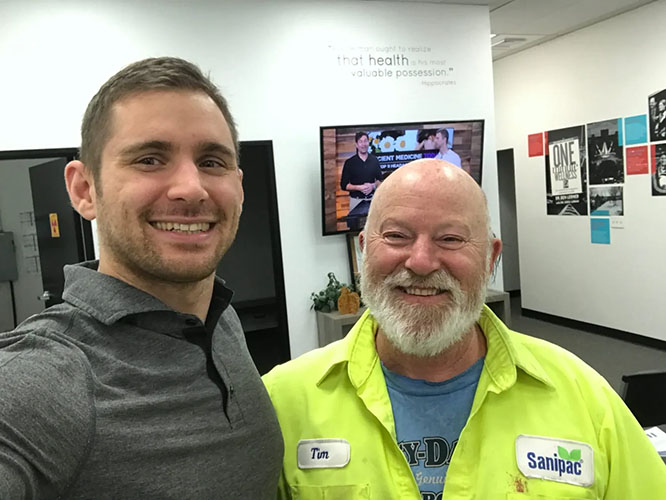 Anyone who has had the experience of a pinched nerve understands that it can be excruciating. Especially if one has prolonged the problem as long as I had.
The degradation went from annoying, to frustrating, to intolerable! It got so bad that the pain was making me nauseous! I knew that my only options was to see a Chiropractor or to have surgery. My focus was to get healthy and Chiropractic care made total sense to me. That was about six years ago and thankfully my sciatica was cured!
Fast forward to today. I recently started to experience a pinched nerve again. This time in the middle of my upper back, slightly to the right. I figured it was originating from my lower neck and after x-rays and great consultation by Dr. Kevin Krautsack my problem was confirmed and a therapy plan was designed specifically for me! Today I am pain free! Emerald City Family Chiropractic has not only provided the means to solve my medical needs, they have a wonderful network and their focus on health, nutrition and a goal for everyone to achieve maximum health and well being is unsurpassed by anyone I've ever encountered!
Do I still think I'm indestructible? Part of me still thinks so but realistically I'm more aware of my years and I'm learning how to listen to my body more appropriately. I'm writing this in the hopes that anyone perusing this website will take to heart that if my experiences, although personal, has any bearing on what you may be going through, by all means don't procrastinate! See a Chiropractor right away and if you do, well… I vehemently recommend Dr. Kevin. He is a life saver!!!
PS: A personal note to Dr. Kevin Krautsack. Thank you from the bottom of my heart! For your expertise, your console and your part of Maximized Living here at Emerald City Family Chiropractic for providing me a complete environment towards achieving and maintaining optimal health. Your ethics of honesty and sincerity not only for the individual but to acknowledge that a healthy individual adds to the health of the community is paramount and epitomizes a perfect fit for Eugene Oregon. Thanks again Dr. Kevin."
- Your friend Tim.
---
Alexis's Amazing Story
I met Lexi's mom in Naples, FL at the kombucha stand in Whole Foods. She started asking me questions – not knowing who I was or what I did… we started to talk and i ended up giving her a "mini" version of the shopping tour we do for patients regularly. She was super friendly, gave me a hug and said this is awesome, I want to come see you and get help with my health but I want to see if you can help my daughter. Alexis was in a serious accident that left her in a wheelchair/walker for over two years and on numerous medications. She tried everything and came to us as a last resort.
Alexis worked very hard on her rehabilitation and received chiropractic adjustments roughly 2x a day for 2 weeks, then every day for a week until she flew back home. By the time she left, she didn't need her walker anymore and left it in Florida, her goal all along was to run a race again and she successfully completed her first 5K with minimal side effects!

---
Ron & Sue
Ron and Sue Came in due to constant pain and aches and wanting to feel better. When I asked how they heard about us Ron said, "My brother saw you and after one adjustment his headaches went away and was able to sleep through the night for the first time in years. You changed his life."
OFFICE HOURS
---
Monday
8:00am - 12:00pm
2:00pm - 7:00pm
---
Tuesday
8:00am - 12:00pm
---
Wednesday
2:00pm - 7:00pm
---
Thursday
8:00am - 12:00pm
2:00pm - 7:00pm
---
Friday
Closed
---
Saturday & Sunday
Closed